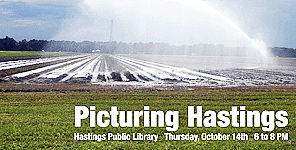 Historic City News has learned that the Hastings "Drop-In" Center, a socialization center for those with mental health conditions, proudly presents an exhibition of photographs taken by its members titled "Picturing Hastings".
The project, funded by the St. Johns County Cultural Council and the State of the Arts License Plate Program, is the culmination of a photography class taught by James Quine, a St. Augustine based fine arts photographer.
Disposable cameras were distributed to the students, who were given instruction in technique and composition with an emphasis on photography as an art form. The show has samples of each student's work and provides glimpses of life in southwest St. Johns County.
The opening will take place at the Hastings Public Library, located at 6195 South Main Street on Thursday, October 14th from 6:00 p.m. to 8:00 p.m.
The exhibit is free and open to the public and refreshments will be served.
Let us know what you think >>