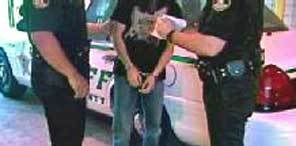 A fifteen year old white male wearing a baseball cap and a gray sweatshirt with the number "4" on the back was seen riding a bicycle through a quiet neighborhood in the area of Abbey and Varella Avenue Saturday morning.
That juvenile is now suspected in the commission of several thefts according to an incident report filed by St. Johns County Deputy Jeremy Russell.
While Deputy Russell was on the scene taking a report of an attempted burglary to a resident's automobile that was parked in the front of his home, Deputies Borra and Bickhart were called to a nearby convenience store on SR 16 where a suspect matching the same description had been caught on video snatching a woman's purse from her open car.
After Deputy Russell arrived on the scene with the other deputies to identify the suspect, additional calls came in from three other neighbors reporting various items missing from their vehicles.
A search of the residence of the juvenile uncovered several items that were reported stolen including a JVC stereo, a Sirius satellite radio, several pieces of jewelry, some change and the woman's purse that had been stolen from the convenience store.
When being taken into custody, the juvenile tensed up and was attempting to break free from Deputy Russell, resulting in additional charges of resisting arrest. It was discovered that the juvenile was on probation from other charges in 2007. Once secured, the subject was transported to Investigations for an interview and to the jail without further incident.
The recovered items were returned to the victims. Descriptions of the items that were not initially recovered were forwarded to Detective Graham Harris who has been assigned to follow through with the investigation.
Share your thoughts with our readers >>