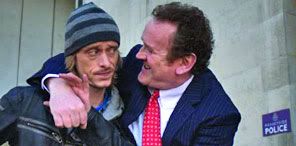 Historic City News has been informed that the "Dinner and a Movie" series to benefit the St. Johns Cultural Council will continue Monday night, December 15th at 6:00 p.m. at Gypsy Cab Comedy Club, 828 Anastasia Blvd., on Anastasia Island.
This month's movie is "A Deal Is a Deal"; a British comedy about a crime that's carried out with about as much gusto as the reluctant murder swap in Hitchcock's Strangers on a Train.
The story involves a young London tube operator (Mackenzie Crook) and an all-around good-for-nothing (Colm Meany) who meet under chance circumstances.
The driver, who's also an aspiring writer, has inadvertently run over two men at work and is in line for forced retirement (and a nice pension) if he hits another.
Meany has decided to end his life and finds himself recruited by Crook, who offers him a lump sum for one last weekend in exchange for becoming his third and final "victim."
Doors open and buffet dinner starts at 6:00 p.m. with the movie beginning at 7:00 p.m.
The menu includes Garden Salad, Chicken Parmesan, Vegetable of the Day and Assorted Desserts.
Shows sell out fast and reservations are required. Cost of tickets is $25 per person, plus tax and tip. ($30.44 total)
Reservations may be made by calling (904) 824-8244.
Share your thoughts with our readers >>