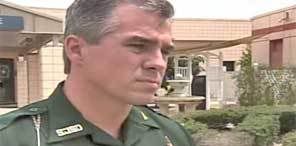 Sgt. Chuck Mulligan has reported to Historic City Media that detectives with the Sheriff's Office Special Victims' Unit are investigating the abduction and beating of a 48-year old Flagler County woman that occured early this morning.
The victim was located by a man and woman and was found locked in the trunk of her vehicle shortly after 6:00 a.m. this morning in the area of Chapin and N. St. Johns Streets in West Augustine. The two were walking by the vehicle when they heard the victim yelling and banging on the inside of the trunk.
The witnesses pried open the trunk and got the victim out and called the Sheriff's Office. The victim had been beaten severely and was transported to Flagler Hospital for treatment.
The victim, who resides in Palm Coast, told deputies that she was driving around when she got lost and stopped to ask a man for directions. The victim was allegedly beaten, sexually assaulted and then placed in the trunk of her car.
The suspect drove around before stopping the vehicle in the area of Chapin and N. St. Johns Streets, according to the victim who told deputies that she had been in the trunk for up to five hours before being heard.
The only description of the suspect at the present time is that he is a black male. The investigation is continuing.
Share your thoughts with our readers >>