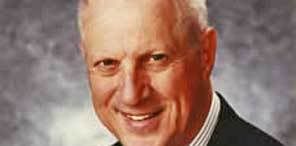 Dr. Bill Adams has long been known in St. Augustine as a tireless advocate of historic preservation, and now those tireless efforts have been recognized by the Florida Department of State.
Florida's Secretary of State Kurt S. Browning announced that Adams will be presented with the 2008 The Senator Bob Williams Award in acknowledgement for his extraordinary efforts and accomplishments in the field of historic preservation. The award was presented in a ceremony in Tallahassee on April 2 as part of Florida Heritage Month.
"Dr. Adams' legacy of preservation work in Florida sets an example for us all and illustrates how one individual in the public sector can make a substantial and lasting difference," said Browning.
The award is presented to a public employee who has provided exceptional service that has changed the course of historic preservation in Florida. The Senator Bob Williams Award is named for Florida's first State Historic Preservation Officer, who created the framework for historic preservation in Florida. Adams is the tenth recipient of the award. Click here to see a list of past recipients.
St. Augustine City Manager, Bill Harriss also praised Adams.
"The city is fortunate that Bill Adams was willing to take on the task of managing the Department of Heritage Tourism," said Harriss. "Bill's passion for St. Augustine's history and for telling the city's story is a driving force for the department, and we are all pleased that his hard work and dedication has been recognized by the Department of State."
For more than three decades Adams has dedicated himself to the promotion and preservation of Florida history, and the preservation of St. Augustine's historic resources. After receiving his Doctorate degree in History from Florida State University in 1974, Adams served as the Executive Director of Florida's Bicentennial Commission from 1975 to 1977 overseeing the 26-member board of public and private officials who organized and implemented Florida's national Bicentennial observance.
Following the Bicentennial, Adams worked for eight years as the Director of the Historic St. Augustine Preservation Board, a seven-member board directing the State of Florida's preservation and restoration effort in the nation's oldest city.
For the past nine years, Adams has served as the Director of the city's Department of Heritage Tourism where he manages a 53-person department in charge of the state historic resources, the city's visitor information services that welcomes over four million visitors each year, supervision of the Government House Museum and the Colonial Spanish Quarter Museum, the maintenance of 33 restored and reconstructed properties, and the supervision of library and archival collections.
Share your thoughts with our readers >>