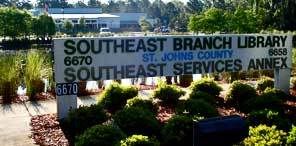 The St. Johns County Public Library System has announced to Historic City News that it will be closed from 10:00 am to 1:00 pm on Saturday, September 13th.
According to the announcement, all libraries in St. Johns County are affected, however, they will be reopen for normal hours from 1:00 to 5:00 pm.
The delay in opening is due to major network maintenance scheduled for the St. Johns County server which will prevent many library services from functioning properly.
All book drops will remain open, and patrons may continue using the tools and resources on the library's website at www.sjcpls.org.
Any questions may be directed to Library Administration at (904) 827-6925.
Share your thoughts with our readers >>