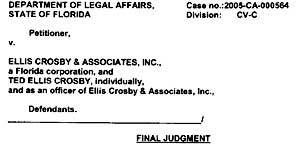 According to information obtained from Florida Attorney General Bill McCollum's website and records published by the Duval County Clerk of Court, Circuit Court Judge L. Haldane Taylor has ordered a Jacksonville resident and his debt collection agency to pay $1.3 million in restitution and civil penalties for violating Florida and Federal collections laws.
The order came down on Friday against Ted Ellis Crosby, director of Ellis Crosby and Associates, and was recorded yesterday.
Crosby and his business were found to have engaged in willful violations of Florida's Deceptive and Unfair Business Practices Act and Florida's Consumer Collections Practices Act. The penalty for those violations includes $388,000 in consumer restitution, $700,000 in fines and $253,000 in legal fees and court costs.
In addition to the restitution, fines, legal fees and court costs ordered in the final judgment, the judge also enjoined Crosby and his business from engaging in any activity related in any way to the ownership, processing, administration or collection of consumer debts in Florida.
McCollum was quoted in the media to say "Florida authorities will not tolerate unscrupulous individuals who victimize our citizens in potentially difficult financial situations."
At the heart of the lawsuit, originally filed in 2005, were allegations from more than 380 victims who filed complaints with the Attorney General's office claiming that Crosby and his business employed deceptive practices in an attempt to scare, harass and intimidate debtors into paying amounts in excess of their lawful debts.
Testimony from victims and witnesses revealed that Crosby and his business used tactics such as posing as a law enforcement officer, threatening seizure of property that could not lawfully be seized and even threatening bodily harm.
Share your thoughts with our readers >>