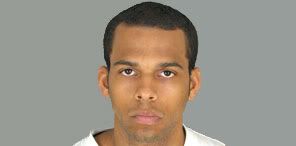 According to reports from the St. Johns County Sheriff's Office received by Historic City News this evening, a 22-year old St. Johns County man has been arrested this afternoon on charges stemming from a home invasion robbery that occurred last December.
Violent Crimes Unit detectives arrested the suspect, identified as Micah Jon Oja-Dunaway, 22, 207 N. Matanzas Blvd., on a charge of home invasion robbery with a weapon following the issuance of an arrest warrant today.
The investigation began on Friday, December 14, 2007 at a residence in the 2600 block of Juarez Ave. The 19-year old female victim stated that she was awakened from sleeping on the couch shortly after 4:00 a.m. by a male subject who allegedly broke the sliding glass door with a bat.
The victim, who was house-sitting for another woman, fled to a neighbor's home where she called the Sheriff's Office.
The suspect, who began to chase the victim, fled from the scene with a severe laceration to the leg. Deputies who responded to the call were able to locate and follow a blood trail to the 900 block of Cypress Rd., and then to Isabella St. where the trail ended.
Later the same morning, at approximately 7:30 a.m., Fire-Rescue personnel were called to a residence in the 3000 block of Usina Rd. after receiving a report of a man who had a laceration to the leg. That person was Oja-Dunaway — who was transported to Flagler Hospital for treatment.
At the time detectives believed that Oja-Dunaway was the suspect from the home invasion, however, Oja-Dunaway denied being there and the victim was unable to identify Oja-Dunaway in a photo line-up.
Detectives sent off DNA evidence to the FDLE lab and earlier this week that evidence was linked to Oja-Dunaway.
The new charges were signed against Oja-Dunaway who has been in the St. Johns County Jail on unrelated charges. Detective Kevin Kier served the warrant on Oja-Dunaway today in the St. Johns County Jail where he remains in lieu of $100,000 bond.
Share your thoughts with our readers >>