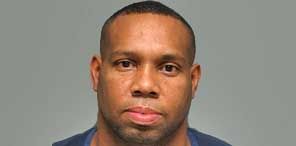 A 39-year old St. Johns County man was arrested on charges of aggravated battery, kidnapping, and grand theft last week in connection with the beating of a Flagler County woman a little over a month ago according to a report received by Historic City News this afternoon.
Kevin Kelshaw, Media Relations Officer with the St. Johns County Sheriff's Office, says that Special Victims Unit detectives arrested the suspect, identified as Sean Jeffrey Holley, 22 Florida Ave., last week as a principal to the crime. During a subsequent interview he allegedly implicated another individual.
Further investigation revealed that that individual had been in jail on other charges and could not have participated in the crime. Holley was again questioned today by Detective Shannon Andrews and allegedly confessed. He is being held in the St. Johns County Jail on bonds totaling $1.5 million.
The investigation began in the early morning hours of 29 July. The 48-year old female victim was located in the trunk of her vehicle shortly after 6:00 a.m. in the area of Chapin and N. St. Johns Streets in West Augustine. A man and woman drove by the vehicle when they heard the victim yelling and banging on the inside of the trunk.
The witnesses pried open the trunk, got the victim out and called the Sheriff's Office. The victim had been severely beaten and was transported to Flagler Hospital for additional treatment before being released.
At the time the Palm Coast victim told deputies that she was driving around when she got lost and stopped to ask a male subject directions. The victim was then allegedly beaten, sexually assaulted and choked. She was then thrown into the trunk and the suspect drove around for several hours before parking the car and fleeing with the victim locked in the trunk.
During the investigation, SVU detectives identified Holley as a possible suspect who had been seen in the victim's vehicle during the evening. He was brought in for questioning and told detectives that he was in the car, however, he was only paid to drive it. He then implicated the other subject, however, when that proved false, he changed his story and admitted to the attack.
Additional charges are pending the result of the continuing investigation.
Share your thoughts with our readers >>