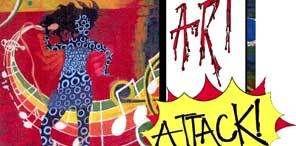 The St. Johns County Education Foundation proudly presents the first Art Attack! this Saturday at the Amphitheatre.
For additional details on the cultural events reported to Historic City Media by St. Johns Cultural Council, visit their website at www.stjohnsculturalcouncil.org
This will undoubtedly be one of the easiest and most enjoyable ways to support the arts in our schools.
The event is a fund raiser for our school arts departments and proceeds (Admission to the event: Adults: $5, students: $3) will be distributed directly back to participating schools.
Artwork will be on display under the pavilions on the plaza, performing groups will entertain you on two stages, and silent auctions items will enable you to take home some original artwork.
Help keep the arts alive in our schools and plan on having an Art Attack! tomorrow.
Performance times:
Durbin Creek Chorus and Music 3:00 Stage
ABLE Drummers 3:00 Plaza
Hickory Creek Chorus 3:20 Stage
Ketterlinus Rock Ensemble 3:20 Plaza
Hickory Creek Band 3:40 Orchestra
Murray Middle School Dance 4:00 Stage
St. Augustine High School Guitar Ensembles 4:00 Plaza
St. Augustine High School Drama 4:20 Stage
St. Augustine High School Madrigals 4:40 Stage
St. Augustine High School Choir 4:40 Stage
ABLE School Piano/Suzuki 4:40 Plaza
R.B. Hunt Drum Islander Recorders 5:00 Stage
RB Hunt D.R.U.M. 5:00 Stage
ABLE School Green Fashion Show 5:40 Plaza
Hartley Chorus/Music 5:40 Stage
Fruit Cove Middle School Jazz Band 6:00 Orchestra
Bartram Trail High School Dance 6:20 Stage
Nease High School Chorus 6:40 Stage
Nease High School Band 7:00 Orchestra
Pedro Menendez High School Dance 7:20 Stage
Murray Middle School Drama 8:00 Stage
St. Augustine High School Jazz Band & Ensembles 8:20 Orchestra
St. Augustine High School Percussion 8:40 Stage
Share your thoughts with our readers >>