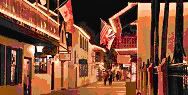 Historic City News has received the general guidelines for participation in the City of St. Augustine's Nights of Lights.
Private property owners are asked to carefully install and to conduct regular inspections of all lights and to seek professional assistance where necessary to ensure safe and professional displays. The City of St. Augustine has worked with its contractor, Angels in the Architecture, to develop basic guidelines or standards to ensure consistent quality and maximum safety for all of its installations.
Light line
18-2 commercial grade line in either green or white. Commercial grade insulation suitable for long-term exterior exposure.
Bulbs
C-7 watt long-life bulbs with nickel backing, Clear bulbs only.
Electrical hook-ups
Never place extension cords down the face of a structure or run a power line across roof. It is unsightly and unsafe. When necessary, have a professional install a new power source to support installation.
Method of application
Light line must be attached with either a 3M electrical tab and zip tie, or a rust-proof staple (Monel). Consideration must be given to the nature of the property when determining method of application to prevent damage to the structure.
Tabs: When using a 3M tab, the tab must be placed directly under each socket and not between sockets or line. To ensure a tight and secure line, no sockets should be skipped. Use clear electrical zip ties (8 mm) to fasten each socket to each tab. Self-adhesive 3M tabs must then be caulked on two (2) sides (at a minimum) with a clear adhesive as backup for each tab.
Staples: When using Monel staples, the staple must NOT penetrate insulation as this will cause a short in the line. Each socket requires two (2) staples, one on each side. The staples must be placed a maximum of one inch (1") and a minimum of one quarter inch (1/4") from each side of each socket. If staple is too close to the socket the staple will pull on the socket contacts.
Tab-less installations: To protect historical structures and to extend the life of the light displays themselves, the City is increasingly making use of tab-less installation. Displays are pre-formed using lights attached to PVC pipe which are fastened to a structure during the season and removed afterward. Tab-less displays eliminate damage caused by tabs being affixed to structures or by staples puncturing wood surfaces.
Let us know what you think >>