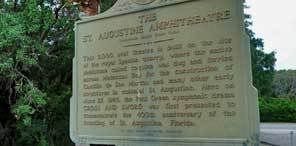 According to plans announced to Historic city.com this afternnon, by speakers in behalh St. Johns County Board of County Commissioners. though Karen Pan, Florida Favorites JJ GREY & MOFRO Host Second Annual BLACKWATER SOL REVUE at the St. Augustine Amphitheatre on Saturday, August 30th.
Featuring Toots & The Maytals, Hill Country Revue, The Lee Boys and Nervous Turkey. This year's event celebrates the release of JJ Grey & Mofro's new album, Orange Blossoms, to hit streets August 26th.
Hailing from North Florida and known for their raw and swampy funk rock, JJ Grey & Mofro announce their second annual Blackwater Sol Revue at the St. Augustine Amphitheatre on Saturday, August 30. JJ Grey, who comes from a long tradition of Southern storytellers, created the one-day festival to help promote roots and southern music and culture. In addition, this year's Blackwater Sol Revue is the Florida album release party for his brand new studio album, Orange Blossoms, his second release on Alligator Records, which hits stores nationwide on August 26.
The 2008 Blackwater Sol Revue, which in addition to JJ Grey & Mofro features reggae legends Toots & the Maytals, Hill Country Revue (featuring members of North Mississippi Allstars), The Lee Boys and Nervous Turkey, will also host Pre and Post-Festival shows at a local venue.
Festival information is as follows: Blackwater Sol Revue Saturday, August 30th from 2:00 pm – 10:00 pm (Doors @ 1:00 pm) The St. Augustine Amphitheatre 1340 A1A South, St. Augustine Tickets $35.00 Limited Early Bird, $40.00 Adv, $45.00 Dos, $100.00 VIP / All Ages Welcome For more information please visit www.blackwatersolrevue.com or www.mofro.net.
Following the enormous success of 2007's Country Ghetto, JJ Grey & Mofro hit the studio this summer and have emerged with a new album proving to be an instant classic. ORANGE BLOSSOMS (August 26, Alligator Records) is a collection of down-home, soul-shaking music produced by long-time cohort Dan Prothero. The album features 12 songs (including 11 Grey originals) inspired by Grey's life experiences and visionary observations. With long-time friend and guitarist Daryl Hance, bassist/organist Adam Scone, drummer Anthony Cole, and the Hercules Horns of saxophonist Art Edmaiston and trumpeter Dennis Marion, Grey moves effortlessly from gospel-tent fervor to Southern-fried rockers to deeply emotional soul. ORANGE BLOSSOMS is a groove-driven masterpiece fueled by JJ's gritty, smoldering vocals and intense, funk-infused guitar and keyboard work.
For more information about Blackwater Sol Revue and JJ Grey & Mofro, please contact Madison House Publicity: 303.413.8308 Megan McFann / Carrie Lombardi megan@madisonhousepublicity.com / carrie@madisonhousepublicity.com
For more information, you may contact Karen Pan at 904.209.0549.
Let us know what you think >>