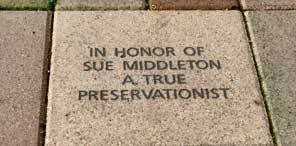 Thanks to Dr. Sue Middleton, saving the city's brick streets is on city hall's front burner.
In an interview with Kathy Schirmacher, Secretary/Treasurer of the Citizens for the Preservation of St. Augustine (CPSA), she informed Historic City Media that their organization has awarded its highest honor of recognition for citizen service to Dr. Middleton for her effort to raise community-wide awareness concerning the preservation of this City's brick streets.
"A commemorative brick was purchased in her honor", said Schirmacher. The brick is placed in the patio built around the Zero Milestone of the Old Spanish Trail next to the city's Visitor Information Center.
The brick streets of St. Augustine are survivors of the Flagler Era and the early automobile age. They are highly visible and part of the town's charm and romance.
According to information on the organization's website, our brick streets are often taken for granted – so many of them have been covered with asphalt. Those few remaining are in need of repair and with time they have become more and more uneven.
Drivers increasingly demand repair or replacement. Asphalting over a bumpy street is quick, easy and cheap solution. But thanks to Dr. Sue Middleon's vision, St. Augustine will join the ranks of other communities committed to celebrating their historic environment.
The City of St. Augustine now has an established a public policy that requires replacement and repair of existing brick streets slated for maintenance. For more information about this project, visit the Citizens for the Preservation of St. Augustine website.
Share your thoughts with our readers >>