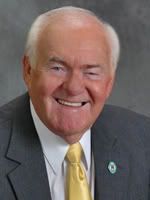 Historic City News has received confirmation that local businessman Randy Brunson has been cleared of all charges by action of the Florida Election Commission in an administrative hearing in Tallahassee today.
Brunson was accused of election law violations in a complaint filed by Edward Adelbert Slavin, Jr., a disbarred Tennessee attorney who now lives in St. Augustine's Madeira Heights subdivision. Slavin was recently elected as a Democratic committee person in Precinct 507 and will be installed November 20, 2008.
In an interview with Brunson he expressed his satisfaction with the outcome of today's hearing and feels reassured that he made no misstep in how he and his wife Carol managed his campaign.
Brunson served for the past four years as an elected member of the St. Johns County Airport Authority and was encouraged to run in the last election for the county commission seat being vacated by retiring Commissioner Jim Bryant.
Some area media seized on Slavin's spurious complaints; one Ponte Vedra Beach publication went so far as to publish Brunson's picture on their front page beside two former county commissioners who Slavin has also accused of wrongdoing. Brunson said that he thinks that paper should give him equal front page coverage now that he has been fully cleared.
Share your thoughts with our readers >>