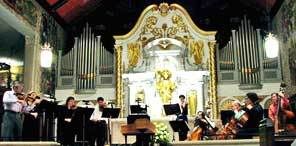 Artistic Director Jorge A. Pena announced the 2008 St. Augustine Music Festival and the launch of their website at http://staugustinemusicfestival.org for the second year of this popular event.
Opening Sunday, June 22nd and continuing through the summer, the festival is a celebration of classical music featuring concerts that are free to the public and performed at the historic Cathedral Basilica of St. Augustine.
Pena said, "Last year's Festival was brought to you by the generosity of the musicians involved. While we gratefully accepted contributions, they were not sufficient to cover all the expenses." He added, "I hope the community members will become involved and support the Festival in whatever way they are able".
The website contains a program of scheduled performances, biographical information on the musicians, photographs from last year's festival, music clips and additional information about this year's event.
Let us know what you think >>