What started as a petty theft of beer escalated into violation of probation charges, resisting arrest and felony charges of fleeing or attempting to elude a police officer, four counts of aggravated assault with a deadly weapon, and habitual driving while license suspended.
Yesterday evening, just before midnight, Sheriff's Deputy Samantha English was dispatched to the 3400 block of Old Moultrie Road to assist the City of St. Augustine Police Department in locating a person of interest in a retail theft case from earlier Monday night according to an SJSO incident report provided by SGT C. E. Mulligan.
Deputy English located a yellow Ford F150 truck in the area that matched a description provided by police. According to the report, English attempted to stop the vehicle and identify the occupants, however, the vehicle turned into the Walmart parking lot and accelerated; refusing to stop for the flashing lights on the marked patrol vehicle.
Before the pursuit ended, the driver of the truck, who was identified as 28 year old Barry Shane Gibby and reportedly lives on Cherry Tree Road in St. Augustine, was said to have attempted to ram the patrol car of Deputy English, Deputy Ezekiel Kelly, Deputy Quentin Beckton and Deputy Jeremy Bouchard.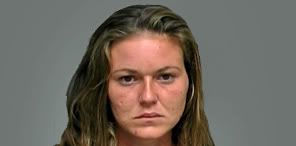 27 year old Kelly Michelle Brooks, the passenger of the truck, was identified as the suspect in the earlier theft of beer and was taken into custody by an officer with the City of St. Augustine Police Department.
Apparently Gibby drove his truck into a ditch in an attempt to evade Deputy Beckton in the area of Kings Estate and Dobbs Road. Gibby fled from the truck and when given commands to stop, he refused. Deputy Beckton deployed his taser in order to subdue Gibby and almost simultaneously, K-9 Deputy Kweli engaged the suspect until he was taken into custody.
Gibby was cleared at the scene by Rescue personnel and taken to Flagler Hospital where he received staples for a cut over his eye. Gibby was later transported to the county jail.
Share your thoughts with our readers >>