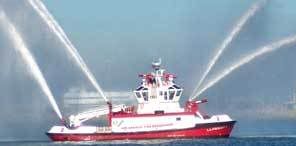 In an announcement from Chief Mike Arnold, Historic City News was informed of a new piece of essential fire fighting equipment that soon will be available — and at no cost to the city.
The City of St. Augustine's Fire Department maintains a well stocked arsenal of fire fighting equipment but until now that arsenal has been lacking one important piece of equipment, especially in a city surrounded by water: a fire boat.
That need has now been filled through the generosity of a well coordinated public-private partnership and at no cost to the city.
With a grant of $20,000 from the St. Augustine Port, Waterway, and Beach District, the St. Augustine Fire Department recently purchased a 20-foot Hammerhead heavy duty aluminum hull commercial boat through an auction held by the General Services Administration. After being refurbished and equipped with rescue and firefighting equipment, the boat will be docked at the St. Augustine Municipal Marina.
A number of agencies and businesses have contributed labor and material to bring the boat up to standards necessary for service, including Global Maritek Systems, Inc., Tower Master's and Vilano Interiors. When completely outfitted, the boat will have a value of approximately $45,000.
"We have been limited in our ability to respond to emergencies, including fires, when occurring on our waterways, but not any longer," said St. Augustine Fire Chief Mike Arnold. "This new piece of equipment will greatly increase the city's level of emergency services, and because of the donations and support from the St. Augustine Port Authority and local businesses, it has more value as a community project than if we had simply purchased a new piece of equipment."
The new fire boat is expected to be in service by mid-August.
Let us know what you think >>