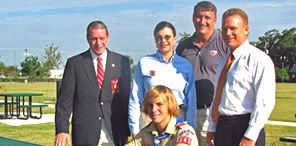 Lance Alexander Receives Eagle Scout Designation by Community Service Project at Francis Field
As a 15 year old, attempting to attain the rank of Eagle Scout is, in itself, quite a feat. However, Lance Alexander is officially an Eagle Scout due to his organizational skills and just plain hard work.
And the City of St. Augustine can give thanks to Lance for his contribution for beautifying an approximate 50' X 100' area at Francis Field. The area has been sodded, trees planted and six new picnic tables installed.
About year ago Lance, who is a St. Augustine native and will be a junior at Nease High School this year, received an email from city employee Sharon Langford who is involved in his troop's leadership. The email was a suggestion from Commissioner George Gardner that a Boy Scout troop could adopt a project for building a much needed picnic table at Francis Field.
Lance, now 16 years old, has been in scouting since kindergarten and comes from a family who take scouting seriously since his dad, Dan, and brother, Davis, both attained the Eagle Scout rank. And he took the email seriously as well and began planning the project. However, he had higher aspirations than just one picnic table. "I wanted to do more than just one table," he stated.
Fortunately his first contact at city hall was Jim Piggott, Director of General Services. Piggott gave Lance the general outline of what was needed to be done and what the city could do to assist in the major project.
To attain the Eagle Scout designation, the Scout must plan, develop, and give leadership to others in a public service project. Lance choose to design a project that called for the sodding of grass, planting of trees and assembling not one but six picnic tables for use by the public at Francis Field. His primary job was project manager and, of course, working side by side with his fellow scouts.
The tables are placed on concrete pads which were poured by the Dept. of Public Works with the city contributing the tables, sod and trees. Otherwise Lance and his fellow Boy Scout workers completed the entire project within a couple of months.
"The hardest part was the sodding," said Lance. They had to remove the dirt several inches down and encountered limestone but they were able to complete that portion of the project in one day. They laid 14 pallets of grass and planted 11 trees around the area: oaks, Chinese elms and hibiscus. Lance said about 15 other scouts participated.
Afterward Lance coordinated 20 fellow scouts to assemble and place the steel framed picnic tables in the area which is west of the tennis courts at Francis Field.
Asked how he felt about the project, Lance beamed, "I feel like I accomplished something really big." Lance did accomplish something big for the benefit of the public visiting Francis Field and obtained the Eagle Scout designation following the footsteps of his dad and brother.
Congratulations to Lance and his new designation as Eagle Scout in Troop 345.
Photo credit: City of St. Augustine contributed photo. Left to right standing, Commissioner George Gardner, Martha Campbell, P.E.,Director of Public Works; Jim Piggott, Director of General Services; and Dan Alexander, Lance Alexander's dad. Lance is seated at the table he assembled.
Share your thoughts with our readers >>