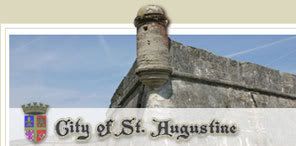 On July 16th the City of St. Augustine will host a meeting to launch efforts to develop and adopt a 10-year plan to end homelessness in our community according to an announcement received by Historic City News this morning.
The public is encouraged to attend the event scheduled to be held at the Flagler College Auditorium, 14 Granada Street, on Wednesday July 16, from 6:30 p.m. until 8:00 p.m.
Dubbed a Stakeholders Summit on Homelessness and hosted by St. Augustine Mayor Joe Boles, the event will feature a presentation by Michael German, Regional Coordinator Team Leader for the United States Interagency Council on Homelessness (USICH).
The USICH's mission is to coordinate the Federal response to homelessness and to create public-private partnerships to end homelessness. By encouraging and then assisting communities to develop 10-year plans to end homelessness, the USICH has led in the creation of a national partnership of 20 Federal agencies, 49 states, three territories, the District of Columbia, and over 320 local communities.
In preparation for the meeting, Mayor Boles has invited over 150 organizations and individuals who have expressed an interest in the issues of homelessness. In addition, to these stakeholders, the public is encouraged to attend.
"For some time our community has diligently explored ways to address issues arising from homelessness," said Mayor Boles. "We are fortunate to have many organizations throughout our community that work tirelessly year after year to address the needs of those among us whose needs are great, especially those who have no home. We now have an opportunity to develop a plan that will support and build on these efforts with new resources and a solid community-wide commitment to end homelessness."
It is expected that members of the City Commission will be in attendance. For more information contact the office of John Regan, Chief Operations Officer for the City of St. Augustine.
Let us know what you think >>