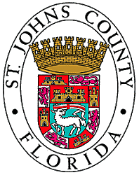 Historic City News has learned that the County Commission intends to consider in it's meeting on Tuesday, January 6th, the approval of a Voluntary Separation Incentive program for qualifying county employees in an effort to save millions of dollars each year.
A quote that was reported in the local paper says that if approved and selected by only 25 of the county's estimated 75 eligible employees, this proposed program could save $1.56 million per year.
According to Tuesday morning's published agenda, St. Johns County Management and Budget Director Doug Timms will present the following proposal to the Board:
Consider motion to adopt a Resolution establishing the terms of a one-time Voluntary Separation Incentive Program and authorizing the County Administrator to implement the Program on behalf of St. Johns County.
If approved, the proposed ordinance would make Wanchick the person who approves all applications, since some eligible employees are department heads — whose voluntary separation could be rejected if they are deemed "indispensable".
In a memo outlining the plan, Timms said the administration is "continuing to identify cost-saving measures" while "minimizing the impact to county employees" and programs.
Under the proposed program, county employees who apply and are approved for voluntary separation will qualify for a cash payment of up to $17,500, depending on seniority, with them able to cash in twice the usual number of sick leave hours up to 600, Timms said.
The likely candidates for a proposal such as this are those who are nearing retirement or those who want to do something else with their life.
Interested employees have three options: having their health care costs paid for up to three years, taking a cash payment of $17,500 or some combination of the two, according to the proposal.
Share your thoughts with our readers >>