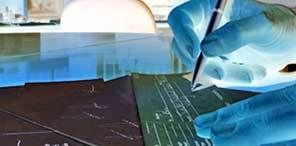 This week, the Sheriff's Office was called to Publix on Racetrack Road to investigate two counterfeit checks passed in their store on February 14th.
According to the statement of a witness in the store, two heavy set black women presented the checks which appeared to have been drawn on Bank of America.
The women were described as about 5′-4″, one having braids and covered up because of cold weather.
The counterfeit checks appeared to be payroll checks from Red Lobster Corp.; issued in two different names, but having sequential check numbers. One check was in the amount of $394.23 and the second was in the amount of $395.21. Bank of America returned the checks to Publix when they were unable to locate the account.
Store management is waiting for the pictures of these suspects from surveillance cameras at the customer service counter. Copies of the checks were turned over to Sheriff's Deputy Gabe Bagby.
Share your thoughts with our readers >>