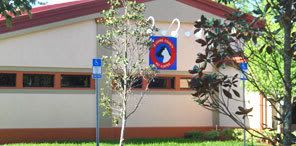 St. Johns County Animal Control has seized seven pit bulls, one German shepherd along with dog-fighting equipment and other evidence following an anonymous request for an animal cruelty investigation on Knowlton Street in West Augustine according to an media advisory received by Historic City Media this afternoon.
After obtaining a search warrant on May 8th, Animal Control Officers in cooperation with the St. Johns Sheriff's Office searched the property and removed logging chain, dog-fighting magazines and numerous other items associated with dog fighting. The dogs had multiple scars, both old and new, that appeared to be consistent with dog fighting.
The evidence is currently being reviewed by the County in coordination with the office of the State Attorney, and the County anticipates filing both felony and misdemeanor charges.
The eight animals are currently being held and treated at the St. Johns County Pet Center.
This is the second dog-fighting case in St. Johns County in recent months. The County continues to place a very high priority on investigating any dog-fighting case and prosecuting to the fullest extent allowed by law.
For more information, contact the Pet Center at 209-6190 or Animal Control Manager Paul Studivant at 669-0112.
Photo credit: Historic City Media news photographer Kerry McGuire
Share your thoughts with our readers >>