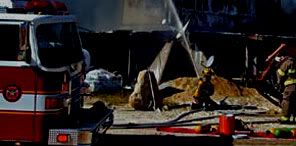 Historic City News learned from Jeremy Robshaw, SJCFR Public Information Officer, that the City of St. Augustine Fire Department assisted St. Johns County Fire Rescue in responding to a residential structure fire in the 2800 block of Coastal Highway at approximately 10:00 p.m. last night.
Upon arrival, City of St. Augustine Fire Department firefighters found a two story converted apartment building with flames showing from the windows of the downstairs unit.
Firefighters made entry into the front door of the structure and were able to quickly knock down the main body of fire containing the majority of fire damage to one bedroom.
Second arriving fire personnel located a dog near the front entrance of the structure suffering from breathing difficulty from smoke inhalation. The dog was treated by firefighters on scene using specialized canine oxygen masks prior to being released to St. Johns County Animal Control.
Damages to the structure are estimated at $50,000 with fire damage primarily contained to one bedroom in the first floor apartment unit, and smoke and heat damage throughout the rest of the structure.
St. Johns County Fire Rescue investigators have listed the official cause of the fire as undetermined but most likely electrical in nature.
Share your thoughts with our readers >>