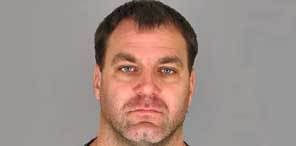 Violent Crimes Unit Detective Charles Brantley is looking for 33 year old Shawn Lee Crays of St. Augustine Beach in connection with the MAC tool truck robbery that occurred earlier this year says SJSO Media Relations Officer Kevin Kelshaw.
Historic City News was informed that an arrest warrant has been issued for Crays on charges of kidnapping, grand theft, robbery with a firearm, and carjacking with a weapon. The bonds on those charges total $505,000. Crays is described as a white male, 6'6" tall, 270 pounds with brown hair and blue eyes.
Anyone with any information concerning Crays' whereabouts is asked to contact the St. Johns County Sheriff's Office at (904) 824-8304. You can also remain anonymous and possibly be eligible for a cash reward by calling CrimeStoppers of North Florida at 1-(888) 277-TIPS (8477).
Three St. Johns County men have now been arrested and charged in connection with the robbery that occurred in January.
Detectives arrested 27 year old Majorca Road resident Robert Joseph Richard on February 28th. He was charged with kidnapping, grand theft, robbery with a firearm and carjacking. He was released on April 10th after his bond was reduced to $20,000.
On March 26th a second suspect was arrested. He was identified as 21 year old Robert Andrew Rash, who lives on Mulberry Street. Rash was charged with kidnapping, grand theft, armed carjacking with a firearm or deadly weapon and robbery with a firearm. He was released two days later after posting bonds totaling $400,000.
29 year old Florida Club Boulevard resident Johnathon William Hockenberry was arrested on unrelated charges on June 7th; then was served an arrest warrant yesterday on new charges of kidnapping, grand theft, robbery with a firearm, and carjacking. He remains in jail on bonds totaling $505,000.
Hockenberry is also being held on two counts of grand theft auto, one count of dealing in stolen property from Duval County, a charge of failure to re-deliver leased equipment and violation of probation on a reckless driving charge.
All of these charges stem from an incident that occurred between 5:00-5:30 p.m. on January 24th involving a 24-year old Flagler County victim who was driving a 2004 International Mac Tool distribution truck. The victim stated that he was to meet an unknown man to show him some tools at the former Charley T's truck stop location on US 1 at the south St. Johns County line.
The subject arrived with another man and entered the tool truck. According to the report, one of the suspects brandished a handgun and bound the victim's hands and his feet with duck tape. The suspects reportedly laid the victim on his stomach on the floor of his truck as one of the suspects sat on his back. The other suspect allegedly drove from the truck from the area.
The suspects are said to have driven the victim to a wooded area in remote Flagler County where there was a rental truck waiting. The two suspects allegedly removed most of the inventory from the victim's truck, took his three cell phones along with a laptop computer and then fled in an unknown direction.
The victim stated that when he freed himself he walked through the woods to C.R. 13 in Flagler County where he flagged down a passerby and notified the Flagler County Sheriff's Office — nearly three hours after he was accosted. Flagler County notified the St. Johns County Sheriff's Office and the investigation began.
The investigation has recovered a large amount of tools that were allegedly stolen from the truck along with a pickup truck that was allegedly stolen from Polk County and discovered in a storage unit rented by Hockenberry. The victim's wallet was located inside Robert Joseph Richard's residence during the execution of a search warrant.
Share your thoughts with our readers >>