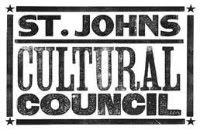 The changing weather conditions may affect some of the following events.
September 3 – Concert
Navy Band Pride, "rock & roll, contemporary"
7;00-9:00p.m. Free
St. Johns County Pier Pavilion
St. Augustine Beach
Info: 904-347-8007
www.staugbchcivicassoc.com
September 5 – First Friday Weekend – WEATHER PERMITTING
Shops and galleries of St. Augustine as they stay open from 5-9p.m.
Listen to music while you view and buy local art.
September 5 – Exhibit Opening
Sarah C. Geraci, "Ladylike"
A collection of wall decor and fashion accessories.
Opening reception from 5-9 p.m. Free dessert with every purchase!
The Closet
51 Cordova St., St. Augustine
Info: 904-810-5699
September 5- Exhibit Opening
Lesley Giles, "contemporary oil landscapes"
Opening reception from 5-9 p.m.
Butterfield Garage Art Gallery
137 King St., St. Augustine
Info: 825-4577
September 6 – Concert
John McCutcheon, "singer/songwriter extraordinaire"
Free. 7:00 p.m.
Presented by St. Johns County Library & Flagler College Radio Flagler College Auditorium
Granada St., St. Augustine
Info: 904-827-6925
September 7 – Exhibit Opening
Fall Members Show
Opening Reception 2-5 p.m.
St. Augustine Art Association
22 Marine Street, St. Augustine
Info: 904-824-2310
www.staaa.org
August 30- September 19 – Exhibit
Los Siete Pintores de san Agustin
Bill Puckett, Bahdri Mehrotra, Al Smith, Mike Moynahan,Rob Connaway, John Roppolo, and Marilyn Terry
St. Johns Cultural Council Art Advocate Gallery
76 B San Marco Ave., St. Augustine
Info: 826-4116
Tune in and listen to Curt Bowman as he reads, THE LOWDOWN on what's happening in St. Johns County on Flagler College Radio,
88.5 FM Radio: Wednesdays at 5:00p.m. Fridays at 11:00a.m. Saturdays at 4:00p.m. Sundays at 6:00p.m.
For additional details on the cultural events reported to Historic City Media by St. Johns Cultural Council, visit their website at www.stjohnsculturalcouncil.org
Share your thoughts with our readers >>