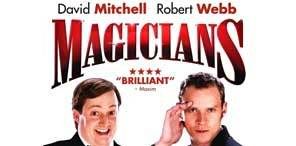 "Magicians" will be shown on Monday, May 19 as the next movie for the Cultural Film Series presented by Gypsy Cab Company and The St. Johns Cultural Council.
Better known as "Dinner and a Movie", the night has proven to be so popular that the sponsors have agreed to continue the series which serves as a benefit for the Cultural Council.
Magicians is a comedy about a pair of rivaling stage magicians who are forced to confront their falling out over a guillotine mishap when they compete in a magic competition.
Magician Bill McRea will be on hand to provide pre-show magic to get everyone in a magical mood. McRea has been practicing magic for over 30 years and has performed before US presidents, corporate executives, military leaders and audiences of all ages. He is comfortable performing in venues as diverse as comedy clubs, theater stages, classroom environments and corporate conventions
Dinner and a Movie is held at 830 Anastasia Blvd. in the Gypsy Comedy Club. Doors open at 6:00 for dinner; with the movie will starting at 7:00p.m. Salad, a choice of entrées, one non-alcoholic beverage and dessert will be included in the $25 plus tax and tip price also covers the donation to the Cultural Council. The menu selections include chicken cacciatore, vegetable lasagna, sausage rustica, and rigatoni.
Gregory von Hausch, President of the Fort Lauderdale International Film Festival, continues to help in providing unusual and entertaining films for the series. For additional details on the cultural events reported to Historic City Media by St. Johns Cultural Council, visit their website at www.stjohnsculturalcouncil.org
Seating is limited and reservations may be made by calling 824-8244. This film is not rated, and is probably not suitable for children.
Share your thoughts with our readers >>