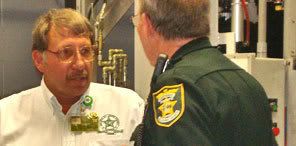 Kevin Kelshaw, SJSO Media Relations Officer, reported to Historic City News that the circumstances surrounding the death of a man at an Elkton business are being investigated this afternoon.
Deputies responded to the 5300 block of C.R. 305 today at 1:15 p.m. regarding a subject that was struck by a tractor trailer.
The subject was found deceased at the scene under a semi after it pulled out.
The victim, identified as Gerald Jones, 54, East Palatka, was assisting a co-worker hooking up trailers and moving them.
During one of the moves the victim was assisting in backing up the semi when he got caught between the semi and the trailer.
A traffic homicide investigation is being conducted by the Sheriff's Office Traffic Unit.
Share your thoughts with our readers >>