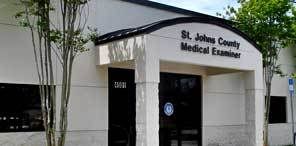 Historic City News has learned that District 23 Chief Medical Examiner Terrence R. Steiner will conduct an autopsy to determine the cause of death of a diver that occurred off the coast of St. Augustine earlier today.
SJSO Public Information Officer Sgt. Charles E. Mulligan has reported that 22 year old Jordan Brent Angyalfy became lost while diving with friends several miles offshore Saturday afternoon.
Angyalfy was reportedly located some time later by his dive partners and brought onboard the dive boat. Angyalfy was transported to Lighthouse Park where he was pronounced dead.
The St. Johns County Sheriff's Office is investigating the death.
Photo credit: Historic City News photographer Kerry McGuire
Share your thoughts with our readers >>