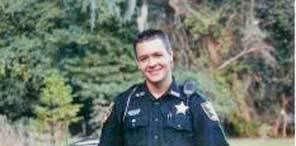 Members of the St. Johns County Sheriff's Office and the family of late Deputy Josh Blyler will meet Friday morning at 10:00 a.m. to dedicate a portion of C.R. 210 (Ponte Vedra) in Deputy Blyler's memory. The dedication ceremony will be held at the Compass Bank parking lot; C.R. 210 and A1A North.
Shortly after being dispatched to a 911 call, Deputy Blyler's patrol car crashed on rain slicked C.R. 210 striking a power pole and a tree.
St. Johns County Fire Rescue workers reported that Deputy Blyler was alert when they arrived but passed away a short time later after being air-lifted to the Trauma Center at Shands Jacksonville.
Deputy Blyler was a northeast Florida native who was born and raised in Jacksonville. His family said that even as a young boy, he dreamed of being a law enforcement officer. He always wanted to help people. Although only serving for 10 months, Deputy Blyler impressed his supervisors and all those who worked with him.
Deputy Blyler died doing what he loved; serving the people of St. Johns County that he swore to protect.
Deputy Blyler was extremely proud to be a law enforcement officer and on his application for employment he wrote, "Being a police officer has always been a dream of mine. I would be greatly honored to serve the St. Johns County Sheriff's Office."
Share your thoughts with our readers >>