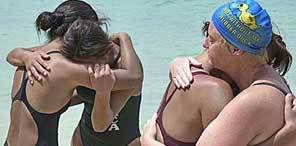 When a boat and its four passengers capsized in the Atlantic Ocean at Matanzas inlet yesterday, one of those stranded on a sandbar attempted the dangerous maneuver of swimming through the strong currents to shore.
The swimmer quickly got into trouble but luck was on her side.
One of the deputies on the scene was Deputy Kieth Oke; a trained and experienced rescue swimmer. Oke shed his uniform and entered the inlet, taking the swimmer in tow and safely escorting her to the beach.
Although deputies on the scene were able to spot the stranded passengers, they were too far away to communicate instructions to remain on the sandbar, so, once again, Deputy Oke entered the surf and made his way to the sandbar; remaining with the passengers until they could be rescued.
Share your thoughts with our readers >>