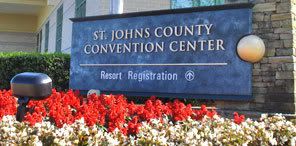 The first step in developing the Destination Management Plan for St. Johns County will be taken on Tuesday, September 23rd at the Convention Center located at World Golf Village.
From 9:00 a.m. until noon, PGAV Destination Consulting representatives will present information and field questions from the tourism industry and general public related to the creation of the plan that will guide the county's tourism efforts for many years to come.
Based in St. Louis, Missouri, PGAV Destination Consulting was selected by the St. Johns County Tourist Development Council to develop the master plan. PGAV Destination Consulting is one of the world's leading tourism and attraction development firms. Each year, more than 90 million people visit destinations developed or revitalized by PGAV. Some of their many clients include the Georgia Aquarium, Baton Rouge Area Foundation, San Antonio, Biltmore Estate, Busch Gardens, Universal Studios, SeaWorld, Gettysburg National Battlefield, and the Florida Aquarium. On an international basis, the firm has recently completed destination management projects for the Pyramids of Giza in Egypt and Queen Victoria Park in Canada.
The September 23rd presentation will mark the official beginning of the development of the county's Destination Management Plan. The completed plan is scheduled for delivery to the Tourist Development Council in 14 months. The tourism industry and the public are encouraged to attend this important presentation. The St. Johns County Convention Center is located at World Golf Village just off I-95 at Exit 323 International Golf Parkway.
Photo credit: Historic City News photographer Kerry McGuire
Share your thoughts with our readers >>