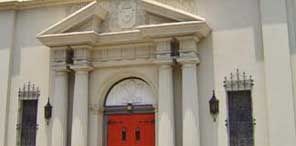 Christine McMillan reports to Historic City News that The Cathedral Basilica of St. Augustine has some exciting events coming up.
The faith community has welcomed a new Pastor, Father Thomas S. Willis, who will be installed by Bishop Victor Galeone on Sunday, August 24, 2008 during the 11 am Mass. A reception in the courtyard will follow, weather permitting.
Wednesday, August 27, 2008
6:00 p.m.Vigil Feast of Saint Augustine Mass in the Cathedral, 38 Cathedral Place. Saint Augustine of Hippo is the patron of the City, the Cathedral Parish and the Diocese of St. Augustine. You are invited to celebrate in this Festival Eucharist. The Cathedral's pastor, Fr. Thomas S. Willis, will be the principal celebrant.
7:00 p.m. "Supper and Sustanence" at the Bishop Baker Center, 249 St. George Street.
Beginning August 27th, Wednesday evenings will be the evangelization, education, and fellowship night at the Bishop Baker Center. There will be a weekly supper and instruction in the Faith for people of all ages from 6 PM to 7:30 PM. For more information, please contact Matthew Weiler, Director of Religious Education by email, cathedralcfp@gmail.com, or phone, 824-2806 ext 335. Free childcare will be provided.
Thursday, August 28, 2008
7:00 am Morning Mass for the Solemnity of Saint Augustine
6:30 Solemn Vespers at the Cathedral Basilica, Bishop Victor Galeone will be the celebrant.
7:15 p.m. Speaker: Dr. Marcellino D'Ambrosio talks about Saint Augustine in modern times.
Bio on Dr. D'Ambrosio –
Marcellino D'Ambrosio initially set his sights on stardom, playing bass guitar in several popular rock bands by the time he was 16. But a deeper encounter with Christ caused a change of course resulting in a Ph.D. in theology from the Catholic University of America under the guidance the renowned Jesuit theologian, Avery Cardinal Dulles.
Dr. D'Ambrosio, the father of five and a business owner, brings to his teaching a practical, down-to-earth perspective that makes his words easy to understand. For the past four years, his TV series on the Early Church Fathers has been broadcast internationally on the Eternal Word Television Network and he is currently one of the sought after guests on a variety of syndicated Catholic radio networks such as EWTN and Relevant Radio.
Dr. D'Ambrosio is a NY Times best-selling author, with his book on Mel Gibson's film, The Guide to the Passion, selling over a million copies in its first three months. He is also a world reknowned commentator on Catholic issues, recently defending the legacy of Pope John Paul II on Fox News' "Geraldo Rivera At Large" and Bill O'Reilly's radio show.
In 2001 Dr. D'Ambrosio left his position at the University of Dallas to direct www.CrossroadsInitiative.com, an apostolate of Catholic Renewal and evangelization, and to oversee the growth of Wellness Opportunities Group, an international company dedicated to helping people attain physical, mental, and financial freedom. He, his wife Susan, and their five children, reside just outside of San Antonio, TX.
Share your thoughts with our readers >>