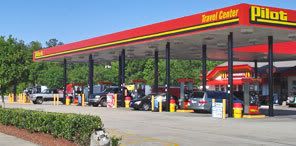 Pilot Travel Centers on CR 210 was the victim of a diesel fuel "drive-off" yesterday morning, according to an incident report filed by Deputy Craig Maguire.
Fortunately, the station can identify the man who they say obtained over $400.00 worth of diesel fuel without paying. In accordance with station policy, the suspect was required to leave his driver's license and a cash deposit with the cashier before fueling.
The suspect left the station after fueling but the station cashier still had the driver's license. Deputy Maguire verified the image on the license through the Drivers and Vehicle identification Database (DAVID) and confirmed with the cashiers on duty that the suspect was in fact the same person.
Although the travel center uses a surveillance video system, no images were immediately available that might further identify the vehicle the suspect was driving. The station manager has signed an affidavit and complaint that has been forwarded to the office of the State Attorney.
Photo credit: Historic City Media news photographer Kerry McGuire
Share your thoughts with our readers >>