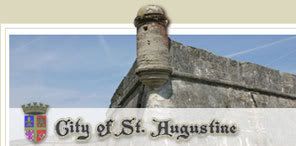 Historic City News has been informed that at least one city meeting has been cancelled so far because of the storm.
As Tropical Storm Fay continues to move north, the City of St. Augustine urges residents and business owners to make all necessary preparations for the "just in case" scenario.
"If there is one thing that is certain about Fay is its uncertainty," said Public Affairs Director Paul Williamson. "We have all been watching the news and checking web sites to learn the latest predictions of Fay's next move, but the only thing that is certain is that we all need to be ready to act quickly if necessary."
The approaching storm has forced the cancellation of Wednesday's meeting of the Street Tree Advisory Committee, but all other meetings and services are still on schedule.
The central location for all local emergency information is the St. Johns County Department of Emergency Management and the county's Emergency Operations Center (EOC). The EOC may be contacted by phone at 904.824.5550 and its information accessed online at www.sjcemergencymanagement.org. The site also has a link to the most current Situation Report, a press release with the most current information issued from the EOC.
Residents and business owners are urged to make their own preparations as they continue to monitor weather information. City residents and business owners are urged to exercise additional caution if driving because of flooding in low lying areas of the downtown area as well as portions of outlying streets caused by Fay's expected heavy rainfall.
The city's emergency operations are coordinated from the main fire station under the management of Fire Chief Mike Arnold who maintains close contact with the EOC which coordinates efforts countywide and hand-in-hand with the state.
Let us know what you think >>