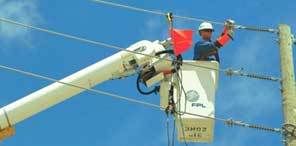 Historic City News has learned that Juno Beach based Florida Power & Light Company filed proposals today with the Florida Public Service Commission (PSC) that would lower the typical residential customer bill in 2009
FPL is hoping that the proposal will also hold the 2010 bill increase well below the rate of inflation experienced since the company's last rate settlement.
The filings detail FPL's request for the level of 2009 fuel charges, on which the PSC is expected to vote Dec. 2, and the initiation of a base rate proceeding for 2010 in advance of the expiration of the existing rate agreement at the end of 2009.
2009 customer bills to decrease effective Jan. 6
The typical 1,000 kilowatt-hour residential customer bill is currently $111.12 monthly.
FPL is proposing to reduce this customer bill, effective Jan. 6, 2009, to $109.55 through a lower 2009 fuel charge, reflecting a recent reduction in prices in fuel markets.
The fuel charge – representing the cost of natural gas and fuel oil FPL must purchase to generate electricity for its customers – is a pass-through charge on which FPL makes no profit.
Proposed 2010 bill holds increase well below inflation rate
FPL today filed formal notification with the PSC indicating its intent to initiate a base rate proceeding in March 2009. New rates would take effect Jan. 1, 2010, upon approval by the PSC. The current rate agreement expires Dec. 31, 2009.
FPL's current base rate settlement took effect Jan. 1, 2006, and, at that time, resulted in a typical 1,000 kilowatt-hour residential customer bill of $108.61. Compared to this amount, a typical 2010 bill would increase in the range of 6 to 9 percent to approximately $115 to $118, which is well below the cumulative estimated impact of inflation of 12 percent for the period. This bill is based on current fuel price projections and could increase or decrease based on actual fuel prices.
An increase in the general base rate, offset in part by lower fuel costs, would support investments intended to keep FPL bills among the lowest in the state and well below the national average while also enhancing system reliability, increasing generation of clean energy and helping to ensure greater fuel efficiency and fuel diversity.
The base rate covers the general costs of doing business, including operating and maintenance expenses for power plants and power lines, as well as the capital costs associated with these assets. FPL's base rate currently represents approximately 35 percent of a residential customer's bill, excluding franchise fees and municipal taxes. The fuel charge represents about 54 percent of the current customer bill while the remaining 11 percent of the bill is for other items such as environmental and conservation programs, purchased power, and gross receipts taxes.
Investing to benefit customers while keeping rates among lowest
"Our bills are among the lowest in the state and well below the national average today, and we're working hard to keep them that way by making smart investments. Floridians expect affordable, reliable, clean energy solutions now and in the future, and we have a plan of action to deliver on meeting this expectation," said FPL President and Chief Executive Officer Armando J. Olivera.
"We're investing to make our infrastructure stronger, smarter, cleaner, more efficient and less reliant on any single source of fuel. While these investments in the near term increase base rates, they help to reduce the impact of volatile fuel prices over the longer term, which in turn keeps customer bills lower over the long term as well," Olivera said.
According to the most recent data available from the Florida Municipal Electric Association and Edison Electric Institute, FPL bills are 13 percent lower than the average electric bill in Florida and 17 percent lower than the national average, despite FPL having made investments that make the company one of the cleanest energy generators in the United States.
FPL's retail base rates are 17 percent lower now than they were in 1985 – the last time a general base rate increase was sought and granted – despite inflation of 107 percent for the same period.
In the past 10 years, FPL's emphasis on operating efficiently has directly benefited customers through base rate decreases in the period, saving customers more than $6 billion. During this period, customer bills have risen roughly with inflation, driven by large increases in the price of fuel. FPL makes no profit from the fuel charge.
Making prudent investments to secure Florida's energy future
"While we are mindful of the difficult economy, we are also responsible for making prudent, long lead-time investments in the electrical infrastructure," Olivera noted.
"We're investing to make our infrastructure stronger every day, in good weather and bad. We're investing in smart technology that gives customers more control and improves reliability. We're doing our part to fight climate change by investing in even cleaner energy. And we're investing to increase fuel efficiency and reduce our reliance on any single source of fuel. By doing so, we are helping to secure Florida's energy future," he said.
A general base rate increase will support capital investments in:
Strengthening the transmission and distribution system to enhance its reliable operation day to day and during extreme weather conditions;
Advanced meters and other smart technology that will give customers more information and control over their energy usage in the future while enhancing the company's ability to manage the system more efficiently and to predict and act on potential reliability issues before they occur.
Existing fossil fuel power generation facilities to enhance their efficient and reliable operation and to lower fuel costs for customers; and,
Existing nuclear power generation facilities to ensure safe, reliable performance over their lifetime.
Currently, base rates do not include the cost of storm restoration, and insurance for such costs is not available. FPL's base rate proposal includes funding to cover the cost of repairing damage from hurricanes.
As part of the rate case, FPL will request an extension of the existing regulatory treatment for new generation, which provides for base rate adjustments for new generation projects such as:
Modernization of power plants at Riviera and Cape Canaveral to increase their fuel efficiency and reduce the company's use of imported fuel oil; and,
Construction of a third natural gas generating unit in western Palm Beach County, which will be among the most efficient and cleanest of its kind in the country.
FPL will also request adjustments to service fees to ensure such costs are borne by those responsible for them and are not subsidized by all customers.
Let us know what you think >>