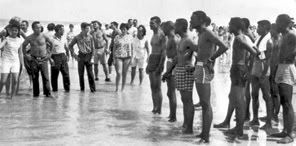 Rev. C. T. Vivian, 83, was one of the closest living associates of Dr. Martin Luther King. He played an important part in the civil rights movement in St. Augustine in 1964 and is pictured in the center of a famous photograph showing the wade-in at St. Augustine Beach that attracted international attention.
Rev Vivian is scheduled to be the guest speaker for The Freedom Trail Luncheon to be held at the Casa Monica Hotel on Wednesday July 2 from 11:30-1:30.
July 2 is the anniversary of the signing of the landmark Civil Rights Act of 1964–St. Augustine's greatest gift to modern history. The day will begin with the launch of Phase Two of the Freedom Trail of permanently marked historic sites of the civil rights movement.
It will be an event that no one should miss, and a chance to pass the knowledge of octogenarians on to younger generations–a privilege that, sadly, will not last too much longer.
Tickets to the luncheon are $35 each. For more information, visit www.accordfreedomtrail.org
Photo credit: Florida State Archives
Share your thoughts with our readers >>