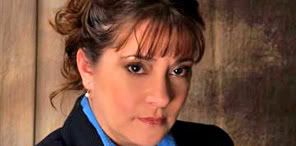 Historic City News was informed that local youth are giving back to Anne Marie Gennusa, who has supported them for years, by helping on her campaign for county judge.
Anne Marie Gennusa has been supporting kids locally for years. Over years of coaching and sponsoring youth sports teams in her community, Gennusa has supported over 2000 area youth. This just shows that she has supported kids of all different sports in different ways. Anne Marie has sponsored or coached almost every sport that is offered to kids in her community. Her biggest support goes to Creeks Athletic Association (CAA), where she has sponsored both pop warner and flag football, and also coaches a youth cheerleading squad. Even though her biggest support goes to CAA, she also played a huge part in helping a local baseball all-star team go to the state tournament in Perry, Florida. "Anne Marie made it possible for us to go to states. When you have no money to travel and you have to rely on sponsorships it's key and she came through when we needed her most. Some of our kids played in the biggest game they will ever play because of her support", said Hal Hanna, coach of the Julington Creek all-star team.
Gennusa, who is a busy working mom with three kids of her own, is known for just loving kids and supporting what they do. When the local youth see her out on the field they see the funny, nice, and supportive coach that loves to have fun, but now that she is running for county judge they feel now is the time to give back after all Anne Marie has done for them. Jim Bagnardi stated, "My son has participated on multiple different teams of different sports that Anne Marie has sponsored, and when sponsorships is where all the money has to come from to travel and other expenses it plays a big role in what these kids are able to do. I'm just proud to see my son want to help Anne Marie get elected and appreciate all she has done for him over the years."
Now that the kids have shown interest in helping her with the campaign, Gennusa has gotten them involved by working at early voting polls, attending functions, and waving signs. They are also learning so many new things by helping her at certain events and becoming more knowledgeable of how the election process works and what candidates think. Gennusa "thinks it's great that the youth is getting in on the action and she is also proud to teach them a thing or two along the way".
Written for Historic City News by William Hanna an 11th grader in Nease's IB program
Let us know what you think >>