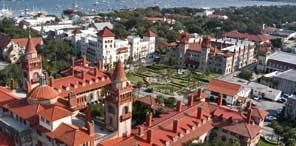 In a news release received by Historic City News and posted by the St. Augustine, Ponte Vedra & The Beaches Visitors and Convention Bureau on yesterday, it was reported that ABC news was recommending that Americans stay home and visit Spain by coming to St. Augustine.
ABC News' Good Morning America program listed St. Augustine as their number one selection of places Americans could go "to feel as though they had jetted across the Atlantic without breaking the bank."
Titled "Exotic Vacations on the Cheap: No Passport Required," the nationally-broadcast news segment was prepared in cooperation with Travel + Leisure magazine and was designed to show Americans that, even in tough economic times, they can experience European atmosphere without leaving the borders of the USA or spending a fortune.
"For a Spanish vacation without buying a plane ticket to Madrid, try St. Augustine, Florida," said ABC News. "It's the nation's oldest city and is filled with Spanish-colonial architecture. It feels like Old World Spain complete with cobblestone streets, courtyards and an old colonial quarter." Of course, locals know that we have brick streets, not cobblestone streets, in the historic district.
The segment went on to suggest that for the complete Spanish experience, viewers should stay at the Casa Monica Hotel – "a Moorish revival castle located in the heart of St. Augustine and is a majestic 1888 landmark." The segment noted the hotel "feels so much like the real thing" it was selected by the King and Queen of Spain on their most recent visit.
Other destinations recommended by ABC News were Barboursville, Virginia; Santa Rosa, California; Milwaukee, Wisconsin; and Republic Island, Michigan.
Each morning, Good Morning America is watched by nearly five million Americans. To see the entire segment, go to the ABC website.
Let us know what you think >>