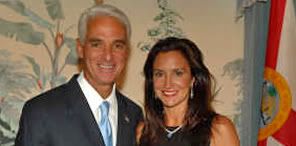 As we spend this Christmas season with our loved ones, we can celebrate the wonders of life, as seen in the miraculous birth of our Lord. This is a time when we enjoy the blessings of friends and family as we look back upon the previous year and prepare for the year ahead.
I urge all Floridians this season to remember the brave service men and women, including those in the Florida National Guard, who are fighting overseas that we may continue to enjoy our freedoms. As they fight so nobly to bring peace and liberty to other parts of the world, we pray for their safe return.
In these challenging economic times, it is also important that we remember those who are less fortunate. This is a time when we can show gratitude for our own blessings by giving to others. The miracles of this blessed season are best enjoyed by sharing with others, especially those in need. Carole and I hope that all Floridians will find ways to share Christmas with a needy family, senior citizen or veteran in their communities. By celebrating with one another the many blessings God has bestowed upon us, we can help make this season shine bright.
GOVERNOR CHARLIE CRIST
Share your thoughts with our readers >>