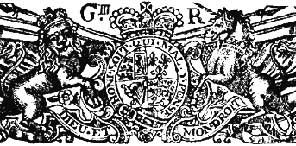 Historic City News has learned that St. Augustine's British heritage will be celebrated in grand style on December 5th and 6th when British Night Watch and Grande Illumination return to the Oldest City; according to an announcement from Visitors and Convention Bureau Communications Director, Jay Humphreys.
One of the most colorful and exciting events of the holiday season, the 33rd annual presentation of Grande Illumination and British Night Watch will feature an entertaining and educational blend of pageantry and authentic historical presentations describing life in St. Augustine when it was part of the British Empire (1763-1784).
This year, the fun gets underway Friday, December 5 at 4 p.m. with a reading of the Treaty of Paris informing the loyal citizens of St. Augustine that as a result of the unexpected success of the Americans in rebellion against King George, their city and all of Florida is to be returned to Spain. To lighten their spirits, an "Evening of Entertainment from the British Isles" will begin at 8 p.m. at the Colonial Spanish Quarter Museum's Taberna del Gallo on St. George Street. Sangria, cider and ale mixed with boisterous singing by authentically-garbed re-enactors will create just the sort of jocularity needed to ease the pain of a lost war. Admission is free.
Saturday's events include a British encampment from 9 a.m. until 5 p.m. at the Colonial Spanish Quarter. These include a performance by master musician Ken Bloom at 10:30 a.m. followed by fife and drum musik at 11 a.m. and a 12:45 p.m. fashion parade featuring the latest fashions from 1782. At 2 p.m., special British military demonstrations will take place at the Castillo de San Marcos. At 4 p.m., the public is invited to attend an "afternoon of musik and country dance" at the Flagler Foundation Garden on the corner of St. George and Hypolita Streets. In addition to a "proper" British tea, the event will include 18th century dances performed by gentlemen and their ladies.
At 7:30 p.m., the British troops, their Native American allies and camp followers will assemble to the beating of drums and the music of fifes at the De Mesa House on St. George Street. At 8 p.m., this colorful contingent will parade by torchlight to the Government House where they will hear a holiday proclamation from the governor before embarking on a festive march through the historic district. The public will be invited to light a candle and join in the boisterous parade through the town. A musket volley of joy and general revelry by everyone involved will add to the holiday spirit.
All of the events associated with Grande Illumination and British Night Watch are open to the public and admission is free. The events are supported by a grant from the St. Johns County Tourist Development Council.
Share your thoughts with our readers >>