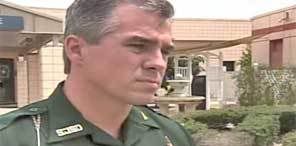 SGT Chuck Mulligan reported to Historic City News that St. Johns County Sheriff's deputies have cleared the scene of a bomb scare at a local high school without injury.
The St. Johns County Sheriff's Office responded to The Pedro Menendez High School regarding a student who found in possession of a World War II era "pineapple" hand grenade. The grenade was not active, however, several empty ammunition rounds were discovered in the sophomore students backpack. No threats were made and the reason for their presence on the school grounds is currently under investigation.
Due to the additional contraband being located the school evacuated all students to the football stadium as a precaution. Parents are permitted to pick up their children from the athletic center entrance, although students will be returning to class after The Sheriff's Office clears Pedro Menendez.
The students name is being withheld, pending a determination of any criminal charges being filed.
Share your thoughts with our readers >>