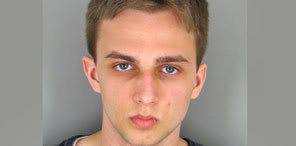 An 18-year old St. Johns County man was arrested Thursday afternoon on 16 counts of harassing telephone calls according to a report received by Historic City Media from Kevin Kelshaw; Media Resource Officer with the St. Johns County Sheriff's Office.
The suspect, identified as Robert Benjamin Rush, 18, 1722 Heatherwood Dr., St. Johns, was booked into the County Jail and released Thursday evening after posting bonds totaling $8,000 on the 16 misdemeanor charges.
The investigation began on 22 March after a 17-year old female reported receiving threatening and obscene phone calls on her cell phone for the past four days at all hours of the day and night. Several other female victims, between the ages 14-18 had also reported similar threatening and obscene phone calls on their cell and home phones during that time as well. All of the victims attended Bartram Trail High School.
Special Victims' Unit detectives continued the investigation and through investigative techniques and a subpoena they were able to identify the alleged suspect. It was learned that the suspect was enrolled in a small college (Champlain College) in Burlington, Vermont, and had graduated from Bartram Trails High School last year.
Information was passed along to the Burlington Police Department and detectives there obtained a search warrant and seized the suspect's laptop computer. At the time he had shipped his desk top computer to his home. Detectives in Vermont interviewed the suspect who admitted to making numerous calls to several people in St. Johns County.
From his phone records detectives learned that the suspect had allegedly made over 10,000 phone calls to various people around the country including to the local victims. He was charged with 16 counts of harassing telephone calls.
Additional charges are pending further investigation.
Share your thoughts with our readers >>