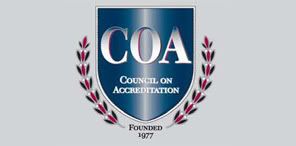 The St. Johns County Health and Human Services Department has received international accreditation by the Council on Accreditation, an international not-for-profit accreditor of family and child service organizations according to an announcement received by Historic City News.
The recognition was the result of a three-year process, led by Health and Human Services Director Dr. Maria Colavito and Project Manager Dr. Rex Emerick.
The St. Johns County Health and Human Services Department includes the Family Integrity Program, the Mental Health and Substance Abuse Recovery Program, and the Community Resource Center. Within the Community Resource Center are Social Services, the St. Johns County Neighborhood Partnership and the Multidisciplinary Prevention Team. The Department operates with the mission to offer residents of St. Johns County encouragement, choices, hope and opportunities for an enhanced quality of life, personal growth and recovery.
In a letter informing the County of the recent four-year accreditation, the Council on Accreditation explained the accreditation process is "designed to identify service providers that have set high performance standards for themselves and have made a commitment to their constituents to deliver the highest quality services." St. Johns County was recognized as "one of these outstanding providers."
The accreditation process reviewed and analyzed both the Department's administrative operations and delivery of services, measuring them against national best practice standards. The criteria emphasized services that are "accessible, appropriate, culturally responsive, evidence-based, and outcomes oriented." Additionally, the standards "confirm that the services are provided by a skilled and supported workforce and that all individuals are treated with dignity and respect."
Dr. Colavito is proud of the staff and the significance the accreditation has on the services provided to the community. "Our staff always sets high standards to deliver the best services to St. Johns County citizens," she said. "We are very proud to have accomplished this accreditation for them and continue to provide programs that improve their quality of life."
The accreditation is not of any specific program, but rather of the entire Health and Human Services Department. The notification letter assured the County it could "have confidence in the credibility, integrity and achievement of your entire organization."
County Administrator Michael D. Wanchick wants the community to understand the significance of the national accreditation. "The County Commission and the Department staff should be commended for their tremendous dedication to social services, as recognized by this accreditation," he said. "Our community can be confident that our social service programs are among the best in the country, and our staff remain committed daily to meeting the needs of the community."
The Health and Human Services Department is located at 1955 US 1 South in St. Augustine.
For more information about the Department, its programs or the recent accreditation, contact Director Dr. Maria Colavito at (904) 209-6082.
Share your thoughts with our readers >>