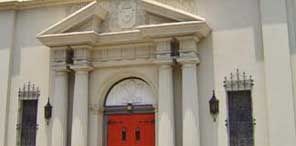 Historic City News has received word of the Cathedral Basilica of Saint Augustine's schedule of Masses for the Vigil of Christmas and Christmas Day from Communications Director Christine McMillan.
On December 24, Masses will be at 4:00 p.m. and 7:00 p.m. in the Cathedral along with the traditional Midnight Mass at 12:00 midnight.
The Most Rev. Victor Galeone, Bishop of St. Augustine, will be the principal celebrant and homilist at the Midnight Mass.
The Cathedral Choir, under the direction of new Director of Music Dr. Bernard Sans, will perform a number of selections of Christmas music beginning at 11:30 p.m.
On December 25, Masses will be at 9:00 and 11:00 a.m. in the Cathedral. In addition, there will 8:00 a.m. Mass at St. Benedict the Moor Church on Martin Luther King Avenue.
The Cathedral Basilica of St. Augustine will celebrate the Te Deum Mass on Wednesday, December 31 at 6:00 p.m. as part of its celebration of the Solemnity of Mary the Mother of God and the New Year.
At the Te Deum Mass, the Church looks back on the year that has just been completed and gives praise and thanks to God for his blessings and favors. The ancient hymn Te Deum Laudamus ("We praise you, God") is sung following the reception of Holy Communion.
The feast of Mary the Mother of God is the oldest feast in honor of the Blessed Mother in the Christian Church. The feast is a holy day of obligation for Catholics.
Additionally, the Cathedral will have Mass at 9:00 a.m. on January 1.
Let us know what you think >>