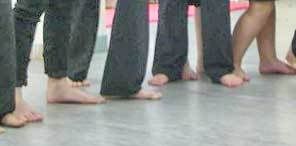 Intergenerational Movement Workshops to be held May 24 at the Cultural Arts Center at St. Augustine Beach according to an announcement received by Historic City News this afternoon from the St. Johns Cultural Council.
Two intergeneration movement workshops will be held in the dance studios of the Cultural Arts Center at St. Augustine Beach on Saturday, May 24. Teachers Janet Pilla and Germaine Mancke will be leading two advanced classes that are open to all interested advanced dancers, ages thirteen through adult professional.
A Modern Dance Technique Master Class will meet from 1:00p.m. to 3:00p.m. The class, taught by Janet Pilla, is based on the Jose Limon technique. Pilla has toured nationally and internationally as a soloist for Ann Vachon/Dance Conduit. She has taught Limon repertory for the Limon Institute at the university level and currently teaches the Limon technique in Philadelphia. José Limón was a pioneering modern dancer and choreographer. The Limon technique is based on principles of weight, fall and recovery.
The Improvisation and Choreography Master Class taught by Germaine Mancke will be held from 3:30p.m. to 5:30 p.m. The class is based on her curriculum Art Moves! and connects visual, dance improvisation, and choreography. Mancke is the Founding artistic Director of Hatch Dance Theater in Philadelphia. Hatch Dance Theater is a non-profit Modern Dance performance company that includes repertory, school, and outreach programs. Hatch Dance has performed at the Philadelphia Live Arts 2006 Festival and the Philadelphia Fringe Festival 2007.
Last fall Hatch Dance Artistic Director, Germaine Mancke approached the Cultural Council with the idea of an exchange to create a Philadelphia/Saint Augustine arts connection. These two classes are the third in a six-part exchange with Philadelphia's Hatch Dance Theatre. Beginning in January with Mancke's performance with local dancers during Uptown Saturday Night, the exchange will end with a collaborative performance with Philadelphian dancers in their hometown. Mancke has sought sponsors from a variety of sources in Philadelphia and St. Augustine to help make the collaboration possible. The exchange is being funded in part by Malecki Contracting in St. Augustine, Dance Advance, funded by the Pew Charitable Trust, Hatch Dance Theatre, Germaine Mancke Dance in Philadelphia, and the students involved.
Each class is $30 per person and reservations can be made by calling The Dance Company at 471-4946. The Cultural Arts center is located just south of the St. Johns County Pier at 370 A1A Beach Blvd., St. Augustine Beach. For additional details on the cultural events reported to Historic City Media by St. Johns Cultural Council, visit their website at www.stjohnsculturalcouncil.org
Let us know what you think >>