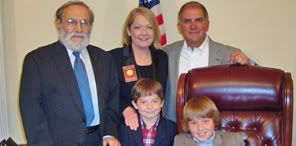 Historic City News reached out to our newly installed City Commissioner, Nancy Sikes-Kline, to see if we could get a few comments for today's journal. Despite being out all day, she was happy to oblige.
Commissioner Sikes-Kline has received a lot of communication lately from citizens and merchants about the traffic and parking situation downtown. We asked her about some of her goals and plans for the near-term.
"I have learned this about traffic and parking" Nancy said, "Transportation planning is one of those things that seems simple … but is really pretty complex".
In the process used to select Mrs. Sikes-Kline as the candidate that Historic City News would endorse, we gave great weight to her commitment to "continue to work on traffic and parking issues so that we have increased mobility and convenient access to all areas of the city".
Today, she tells us, "Transportation planning can make or break a community. Our historic City Plan was not designed for cars. It was designed for people." and we couldn't agree more.
Nancy renewed her committment to us and explained "Keeping this in mind … I am eager to look at a second generation Transportation and Parking Master Plan for the City."
Sikes-Kline previously was involved in promoting accessibility in and around St. Augustine as a part of the City's citizens advisory parking and traffic committee.
Now, as the City's new representative on the North Florida Transportation Planning Organization, she tells us, ""I hope to find solutions that help us create a more accessible city".
We feel that Commissioner Sikes-Kline is headed in the right direction and we are thankful to have her ear for the benefit of Historic City News readers.
Share your thoughts with our readers >>