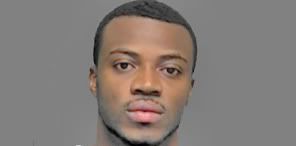 At about 6:30 this morning, Jaguars corner Tarvarous Donnell Bain was taken into custody by St. Johns County Sheriff's Deputy Shawn Emert after Bain was stopped driving 99 m.p.h. according to a Historic City News alert just received.
Bain's driver's license was suspended indefinitely February 4th of this year for failure to comply with a traffic summons. One year ago today, Bain's license was suspended for one year after being convicted of driving under the influence.
Again on April 30th of this year, Bain's driver's license was suspended for five years after being convicted of a second driving under the influence arrest.
Bain was driving a 2008 blue Nissan Altima sedan at the time of his arrest. The vehicle was impounded and towed from the scene according to the incident report.
Share your thoughts with our readers >>