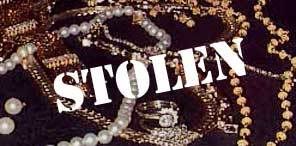 Deputy David Blanton was called to the 6000 block of Catlett Road yesterday to investigate the complaint of a homeowner who reported that she is the victim of theft of jewelry and other personal property totaling over $1,300.00.
Last week, on 04/11/08 and 04/12/08, the homeowner had a local flooring contractor working in her home. A young woman described as the girlfriend of one of the workers was present in the home on both days and the owner claims that on Saturday, the woman used the bathroom "several times" and left the residence.
Since the owner knew that the flooring company would be working in her bedroom, where her jewelry is normally kept, she moved it and some of her other personal property into the bathroom for safe keeping. Upon returning her jewelry box to the bedroom on Sunday, the owner noticed the jewelry missing and she believes that it was stolen — so she contacted the owner of the flooring company.
The workers told the flooring company owner that they did not know anything about the missing jewelry; however they provided the name of the young woman who accompanied them on the job.
The investigation is continuing.
Share your thoughts with our readers >>