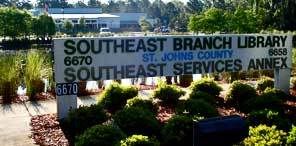 Historic City News has been informed that the St. Johns County Library System is seeking public input for development of their Strategic Plan.
Several town hall meetings have been announced to gather public input as they prepare the Library Strategic Plan. The Library reviews and revises the Plan every five years in order to remain current in the provision of Library services to the community. The community's input is crucial to the success of the Plan and to the Library's future ability to serve the public.
Community members have the opportunity to share their opinions about their Library and to evaluate what topics and issues they feel are most important. Once the input is gathered from the public, a planning committee reviews the feedback and the existing Plan and presents a summary to the Library Advisory Board, who then revises the Plan.
The info the committee hopes to gather from the public includes:
Have you or members of your family used the library in the last month, 6 months, year, longer?
Which library do you use most?
What library services do you use most?
What is your opinion of the strengths, weaknesses, opportunities and threats of the library?
Following is a schedule for the public meetings:
Bartram Trail Branch Library – Thursday, September 18, 6:00 to 8:00 pm
Anastasia Island Branch Library – Friday, September 19, 10:00 am to noon
Southeast Branch Library – Saturday, September 20, 10:00 am to noon
Hastings Branch Library – Saturday, September 20, 2:00 to 4:00 pm
Main Library – Monday, September 22, 6:00 to 8:00 pm
Palencia Clubhouse (Cordoba Room) – Tuesday, September 23, noon to 2:00 pm
Ponte Vedra Beach Branch Library – Tuesday, September 23, 5:00 to 7:00 pm
For more information about the Public Meetings or the St. Johns County Public Library call (904) 827-6925.
Share your thoughts with our readers >>