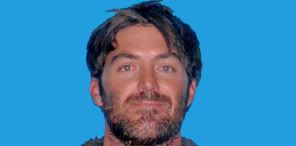 UPDATE: Shortly after 10:00 a.m. today, Benjamin Colenn Lightsey, 30, 541 N. Horseshoe Rd., turned himself in with his attorney. He was charged with first degree murder and was booked into the County Jail where he is being held without bond.
At 5:54 this morning, Historic City News was advised that the St. Johns County Sheriff's Office was executing a search warrant at 6:45 a.m. and to assemble at the Sheriff's Office on Lewis Speedway. Most of us suspected what was coming; but now there is a twist.
A 30-year old St. Johns County man is being sought today (Tuesday) in connection with the death of his 36-year old wife nearly ten days ago. St. Johns County Sheriff's Office Homicide Detectives obtained an arrest warrant for the suspect, identified as Benjamin Colenn Lightsey, 30, 541 N. Horseshoe Rd. earlier this week. Once arrested he will be charged with first degree murder which carries no bond.
The investigation began on Sunday, November 9th at 6:00 a.m. when the Sheriff's Office received a report of a missing person.
At the time Lightsey reported his wife Melissa, missing and stated he had last seen her enter the ocean near Surfside Park in Vilano Beach about six hours before. He told detectives that he entered the water in an effort to bring her back and that the water was extremely cold and Melissa refused to walk back to the shore. The suspect told deputies that he thought he may have passed out for a short time and then stated he awoke at 12:30 and began to search for his wife. He then stated that he went to a relative's home to get assistance and they returned to Vilano Beach to continue the search. Her body was located Sunday afternoon in the St. Augustine Inlet.
District Medical Examiner, Dr. Terrence Steiner performed an autopsy and noted that the cause of death was "due to Trauma to the head, face and neck." In addition he noted that the manner of death was homicide.
The investigation revealed that the couple attended a wedding and reception Saturday evening and witnesses stated that the two had an argument at the reception. Many additional witnesses were located and questioned as well. Detectives also impounded three vehicles and served several search warrants.
Homicide detectives are continuing the investigation and are looking at any possible subjects involved in the homicide after the fact. They are asking any individuals who may have been in contact with the couple a week ago Saturday night to contact them at the Sheriff's Office at (904) 824-8304.
Share your thoughts with our readers >>